An automatic sprinkler system is a complex network of pipes, valves, electrical connections and sprinkler heads. It serves as the circulation system for your landscape. It's a complicated process requiring a lot of equipment, as well as an education in landscape design and hydraulics. This is why it's so important to have a professional contractor design and install your system.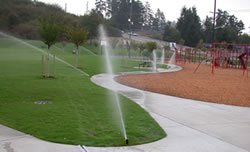 You'll enjoy having an automatic irrigation system because:
You'll save time - no more hand watering;
You'll save money with lower water bills;
You'll increase your home or business value;
You'll help conserve water; and
You'll keep your landscape attractive year-round.
Put away the hose and let us design and install your irrigation system.